x
Please note: Accessing price lists and ordering online is only available to
Access Office Industries resellers / account customers. It is not available to
the general public.
x
Please note: Accessing price lists and ordering online is only available to
Access Office Industries resellers / account customers. It is not available to
the general public.

Catalogues
Education and Library 2019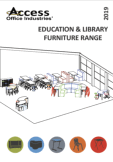 Library Catalogue Eclipse Library Shelving Education and Library 2016 Education and Library 2017
Eclipse Melamine Booklet Prism Booklet Elegance Booklet
Education / Library Mail Outs
client testimonials
Just a quick note to say thank you for the safe delivery of the furniture. We have installed them in the library and I would have to say that the children are very excited. I had to limit the amount of time that they could sit on the yellow tub chairs so that everyone could have a turn. It was quite entertaining to watch.

St Mary's Primary School,

Sydney

Can you please pass on our thanks to Errol and co. for their assistance in getting the lily pad chairs to us? We are thrilled with the finished product, our YA area looks fantastic! Many thanks

Shire of Kalamunda ,

Kalamun...

Hi Errol "Many thanks for the smooth delivery and installation of our furniture. We are especially grateful to Carl who went above and beyond the last couple of days." Ghylène Palmer Senior Librarian - Mount Lawley & Bunbury Campus Libraries

EDITH COWAN UNIVERSITY BUNBURY & MOUNT LAWLEY LIBRARY,

Hi Errol, I am in Mount Lawley today and got a lovely email and photo from Sarah to tell me the chair had arrived. It looks lovely! I cannot wait to see it myself. Thank you so much for the surprise! Karen &nb sp;Kar en Gilmore | Manager, Quality & Service Delivery Facili ties and Services Centre | Edith Cowan University

Looks brilliant. The guys did a great job. Look forward to the ends on next month. Thanks for everything.

The University of Western Australia,

Claremont

Thank you to James, Jamie, Errol, Jon and all the Access staff who worked on this project. Our shelving, bay ends and curvy children's shelves look brilliant. Your company have been wonderful to work with, so helpful and professional. The installation was a breeze. I am happy to recommend Access to anyone needing an expert solution to their shelving needs. Kim Hunter Library Manager

Success Library ,

City of...

Dear Errol Our new furniture is lovely. Thanks very much for your care and assistance as well as that of your marvellous team. James and the hard working gentlemen (Peter, Gary and John) who did such a great job of the deliveries.The y worked quickly, efficiently and were very polite and helpful. Many Thanks

Balcatta Senior High School,

Balcatta

We needed affordable library shelving as soon as possible and after shopping around we found Access. Not only was their quote substantially cheaper and the shelving products of a high standard but the service was friendly and most helpful and the turn around time extremely quick. We are very pleased with the result and would not hesitate in recommending their service to others.

Treetops Montessori School,

Perth

The Campaspe Regional Library Echuca officially opened on August 24, 2012. There are many stunning aspects within this facility, one of which is our wonderful shelving supplied by Eclipse Commercial Furniture. A range of mobile and static shelving provide the flexibility we were after, as well as incorporating face out shelving which helps promote our collection. The custom designed DVD, Audio and Picture book shelving work particularly well as they are easy for the customers to use as well as being appealing pieces of furniture. The slat wall bay panels colour and design complement the rest of the library's interior colours. The addition of iPad holders have proved to be a popular and very workable alternative to the traditional bay end opac. Access Office also provided a number of lap top tables which are terrific and are placed all through out the library. We are exceptionally pleased with the end result and thank Eclipse Commercial Furniture for completing this part of the project for us and for addressing any problems that arose during the installation.< /p>

Campaspe Regional Library Echuca ,

Echuca

Thank you so much for our beautiful Christmas Hamper. What a lovely kind and generous gesture. We look forward to enjoying the contents at our last team meeting for the year next Wednesday. Thank you so much for your gift and your ongoing assistance with great products. We love our shelving and the idea of mobile really came to the fore last month as we rearranged the library to accommodate a large art exhibition. Was so easy, quick and safe to do! Wishing you and all the team a wonderful Christmas time, hope you have a bit a break to recharge the batteries for next year.

Campaspe Regional Library,

Shire o...